DoorDash recently came under fire after a New York Times article exposed the ugly truth about DoorDash tips: in most cases, despite language to the contrary, your "tips" were going directly to DoorDash.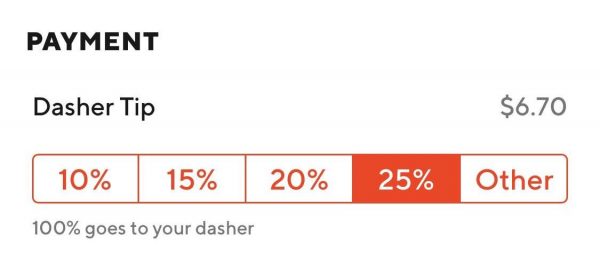 As explained in the article:
DoorDash offers a guaranteed minimum for each job. For my first order, the guarantee was $6.85 and the customer, a woman in Boerum Hill who answered the door in a colorful bathrobe, tipped $3 via the app. But I still received only $6.85.

Here's how it works: If the woman in the bathrobe had tipped zero, DoorDash would have paid me the whole $6.85. Because she tipped $3, DoorDash kicked in only $3.85. She was saving DoorDash $3, not tipping me.
DoorDash has since removed the misleading "100% goes to your dasher" statement, and they have promised a new tipping model in the future. In my opinion, DoorDash engaged in a blatantly deceptive business practice and this change is far too late.
Here's how I got my money back. I encourage everyone reading this to do the same, if only as a matter of principle.
I contacted DoorDash Customer Support:
I'm asking for a refund for tips associated with my DoorDash orders due to the deceptive "100% goes to your dasher" language, which fails to indicate this is subtracted from the guaranteed minimum paid by DoorDash to the driver.

$4.24 (Order #21083487 from Hobee's on April 16, 2017)
$5.04 (Order #214975041 from Shana Thai on May 22, 2019)
$3.95 (Order #218530634 from Cooking Papa on May 27, 2019)
$3.00 (Order #254119321 from Happy Lemon on July 15, 2019)

Total: $16.23
I received a phone call from an unknown number, and then this email:
I just tried to give you a call but it looks like I missed you. Based on what you've described, we'd like to get in touch directly to talk through this further.

Please reply with the best day(s) and time(s) to reach you as well as confirm your preferred contact phone number and we'll call you back.
I can imagine they are hesitant to discuss this matter via email due to the likely class-action lawsuit in their future. I replied:
I don't believe this is necessary. Please issue the requested refund of $16.23.
DoorDash then tried to claim they could not reverse the tips because they had already paid the tips to the dashers, which is laughable if you're following the story so far:
Thank you for contacting DoorDash in this regards.

However we won't be able to process refunds for the tips since all the dashers already collected their payments.
My reply:
Whether the dashers already collected their payments is irrelevant, since they would have been paid the same amount by DoorDash whether I tipped or not.

I'm asking for a refund from DoorDash, not from the dashers. Again, I'm asking for a refund due to the deceptive "100% goes to your dasher" language, which fails to indicate this is subtracted from the guaranteed minimum paid by DoorDash to the driver.

Please proceed with the refund or I will escalate these transactions to my credit card issuer.
As a credit card customer fighting an uncooperative merchant, chargebacks are the ace up your sleeve. Most credit card issuers will side with you (their customer) for any well-documented claim, and merchants are charged a $20 to $25 fee whether your claim is successful or not. Obviously, DoorDash will not want to go this route:
Thank you for contacting DoorDash. I'm sorry to hear about the issue with your order, and I appreciate you bringing the matter to our attention.

We always do our best to ensure a successful delivery, and I know that did not happen in this case. I have fully documented the details of this case so that the feedback can be reviewed. We definitely want to understand how we can better avoid this type of issue in the future.

I have also issued a refund of all the tip you had requested in the amount of: $16.23

I certainly spent more than $16.23 worth of my time fighting this battle, but I believe if everyone exercised the same level of diligence, companies like DoorDash would be forced to consider more ethical business practices.
3 Comments
My order never arrived doordash told me it was to late plus I already had to many refunds what to do

Kyi Love on August 4, 2020 at 7:13 am
I just got into with a customer service representative who wants to argue with me the customer. I proceeded to ask to speak to someone over her and was disconnected

Monieka White on December 10, 2020 at 2:12 pm
I just signed up with Walmart+ & they are using Door Dash for my deliveries. You said "DD" had removed the language, "100% tip goes to driver." It is still stated that way with Walmart+ and it's 2021. I noticed the year of your post was 2019. 🤔

Julie on February 8, 2021 at 6:15 pm
Next: Ensure PHP tmpfile() is removed automatically
About Me
Hi, I'm Neil! I'm passionate about building delightful products at scale, creating music, and performing in theatre and comedy shows.